Welcome to the website of export 3000
We are a Thai company operating under German management. The purpose of our website is to present our services and to answer any possibly existing questions even beforehand. We attach a great importance to pure facts and their clear presentation,  that`s why we can do without flashes or any gimmickry which would distract you.
Our headquarter is located in Pattaya, but we can pick up goods all over Thailand, and ship them to Europe.
Our Khun Note has studied in Germany and now provides local support from Thailand.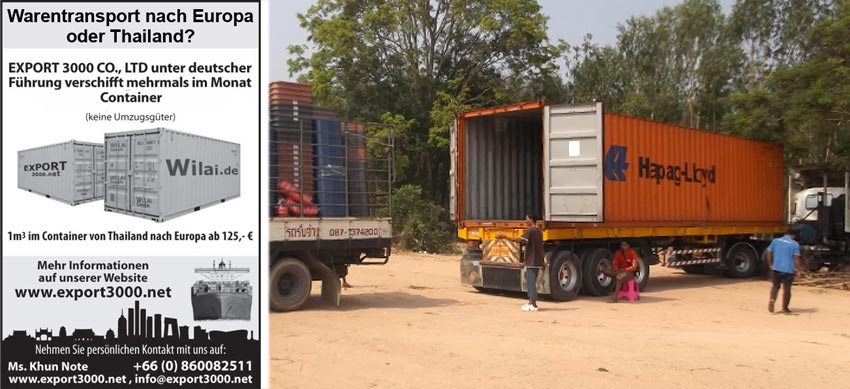 Usually those shipments  take place every 2 - 4 weeks, and in general one sea container arrives after 5 weeks in the warehouse of our partner company Wilai Simon GmbH. This means that your merchandise needs a maximum of nine weeks up to you. Shipping to other EU countries will take up to one week longer.
The freight invoice you`ll get will be issued by our partner company Wilai Simon, which manages import and customs clearance. Once your marchandise is paid, it will be forwarded to your delivery address immediately after its arrival in the central warehouse in Leipzig.
We are always happy to reply to your questions, this usually lasts less than 24 hours.
Or call us: +66 (0)860082511 or +49 (0)34207570889